Some of Our Client Reviews
Mary Higgins
9th May 2016
We approached JK Memorials as we had a friend who had also used them. They were brilliant and I highly recommend them.
I wanted something to remember my parents by and I had an ideas of what I wanted written.
They completed the order in a very professional and compassionate mannner and I am truly grateful for what they have created for me.
Heather Llewellyn
2nd February 2016
Newmarket
Dear Jeremy,
I just wanted to put in writing, my thanks and gratitude to you for Derek's headstone.
It is truly a beautiful piece of work! I marvel at it each time I visit.
I so appreciate, too, your patience with me as I worked through the details. It was an emotional process for me and you didn't hurry me along. Your input was so vital & helpful. You have a lovely ministry to the bereaved, you give people time to make decisions.
May God bless you and use you
With many heartfelt thanks from myself & the four children
Dave
16th December 2015
Fordham
We asked Jeremy to create a countryside picture on a granite headstone for our father.
We were very pleased with the original drawing and overwhelmed with the final result.
Jeremy took lost of time and care over creating the memorial which we were very grateful for.
Tracy Taylor
14th December 2015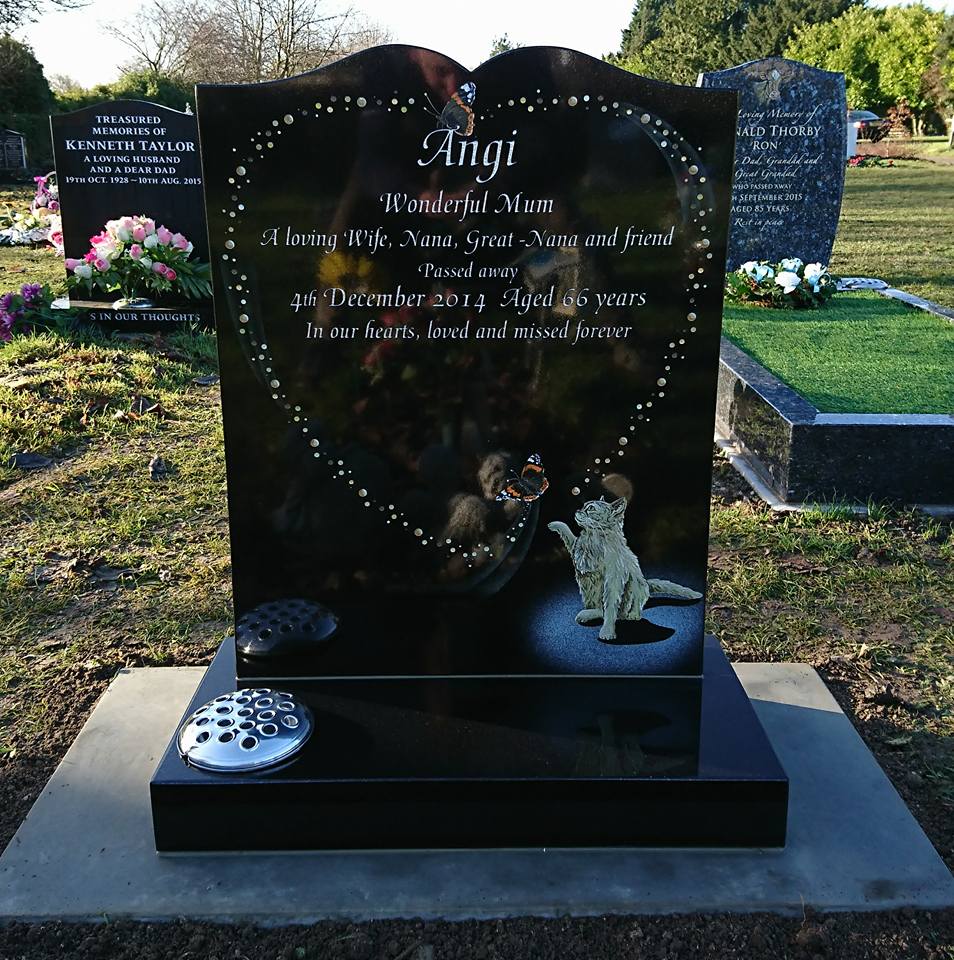 A huge thank you for making mum's headstone so perfect.
The family is really pleased with it, knowing that mum would have loved it too!
Thank you for making the whole process easier to deal with.
We would be happy to reccomend your service to anyone.
Thank You Again.
Tracy Taylor & Family
Colin Audus
12th April 2012
We have just visited my fathers grave at Soham Cemetery and are absolutely delighted with the headstone that Jeremy from JK Memorials Ltd had just erected.
The beautiful picture of the golden labrador stands out superbly and is balanced well by the boarder and inscription.
A very professional, friendly and efficient service from start to finish.
Many thanks, Tina & Colin
Cheryl, Stephen & Leah Chambers
21st November 2005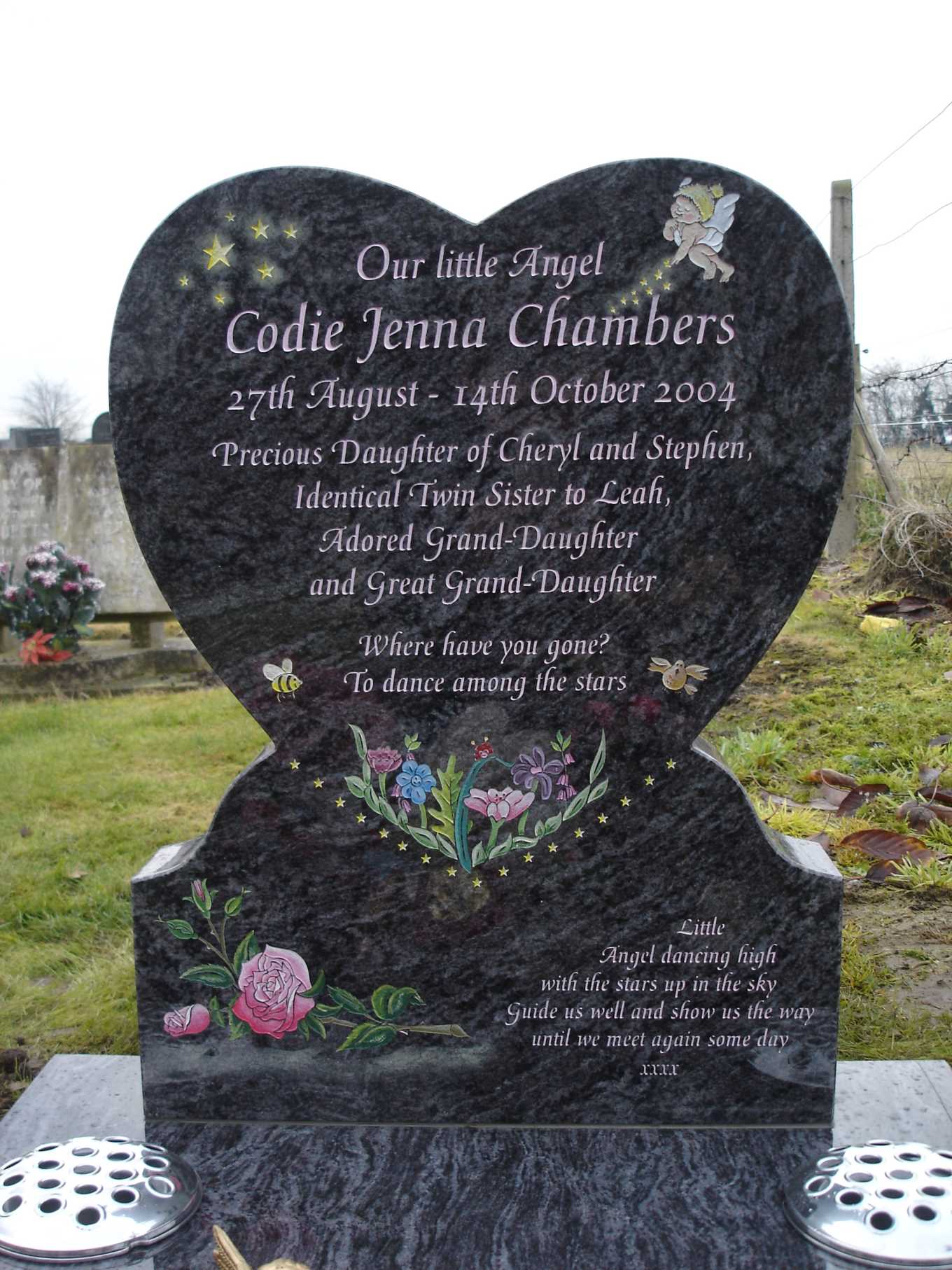 Jeremy,
We'd like to thank you very much for the beautiful headstone you did for Codie. It's absolutely amazing. Definitely the best stone in the cemetery. We get lots of comments about it.
I don't think we ever imagined we'd have something so special as the headstone to look at each time we visit Codie as we'd never seen anything like it before.
Thank you so much
Ami Tilbrook
2nd September 2004
West Row
Dear Jeremy
This is just to say a very big 'thankyou' to you. Our gratitude is heartfelt.
It was very difficult , initially for me to find someone to do George's little gravestone.
I wanted to be able to say exactly what I needed, I felt about the whole thing & it was some thing that just had to be perfect in every way. I wanted to feel like our little boy had something so unique & so special , only you could have done that! I truly don't believe that we could've been more satisfied with the end result if we'd have gone around the World to find someone to do this for us.
From the first minute I spoke to you on the phone, I knew you had to be 'the' person for us. I do hope you understand just how nice it was for me to have been able to talk to you properly about it & for you to give your ideas & thoughts on the wording for example.
We will always be in you debt & I can't thankyou enough for all you've done.
Take care thankyou again Ami Tilbrook xxxx
---
Leave Us Your Testimonial